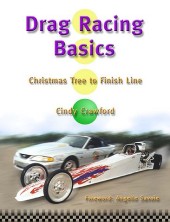 Drag Racing Basics, Christmas Tree to Finish Line has something for all drag racing enthusiasts. Author Cindy Crawford (no, not that Cindy Crawford) covers everything an individual needs to know in order to understand, participate and succeed in this popular form of motorsport.
The text is primarily focused for the prospective or novice driver and is presented in an easy-going, uncomplicated style with numerous photos, many of which are in color. Advanced subject areas will prove equally valuable to journeymen drivers and seasoned pros, as well.
Topics covered include driver training, race technique, car equipment and preparation, necessary safety equipment and towing options. Sections about track layout and procedures will help acclimate newcomers, as will the discussion of major racing sanctioning bodies and their racing classes. Also contained are chapters on sponsorship, junior drag racing and women in the sport. Capping it off are a listing of active tracks in North America and Europe, racing related addresses and websites and a glossary of drag terminology.
Author, Cindy Crawford, started racing a Ford Mustang in 1999 and has been the subject of many magazine articles and television features. She is a grandmother of two and donates her winnings to the Lupus Foundation, to help research find a cure for lupus, a debilitating disease with which she struggles.
Drag Racing Basics, Christmas Tree to Finish Line, by Cindy Crawford, foreword by Angelle Savoie, 168 pages, 213 photos (87 color), 4 illustrations.
Dimensions: 8.5" x 11"
Available May 2003
Item: #75822