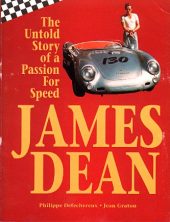 We are pleased to announce that James Dean, The Untold Story of a Passion For Speed is now available in English. This European-style publication incorporates the graphic novel format of well-known Belgian illustrator, Jean Graton with historical accounts of the young movie star who possessed an overwhelming enthusiasm for fast cars. This high quality large format publication has 26 pages of full color illustrations and 47 rare historical photos, even including 8mm home movie frames showing Dean racing his 356 Porsche Speedster at Palm Springs in 1955! Research and attention to detail by author, Philippe Defechereux is superb.
The story is told of a young man growing up in a midwestern small town. By the age of fifteen he had two passions, acting and driving fast. His first adventures on two wheels and later ones on four earned him the nickname "One Speed Dean."
He abandoned his automotive love briefly while learning his trade, but once in Hollywood, working on contract for Warner Brothers, he rekindled it; first with motorcycles, then an MG TD and finally a 356 Porsche Speedster. Honing his driving skills in the hills and canyons around his new California home, Jimmy soon catches the sports car racing fever and between filming he finds time to enter and compete. Graton's illustrations take you to these places not captured on film.
On the way to his fourth race in his newly acquired Porsche 550 Spyder, accompanied by mechanic Rolf Wütherich, the inevitable occurred. The events of the day are captured by Defechereux and Graton. The depiction of a man very much in control, with a true racer's instinct sheds new light on the tragic accident scene. For anyone wanting to know what actually happened, James Dean, The Untold Story of a Passion For Speed is required reading.
NOTE: Out of print, limited number remain. New, but all have some scuffing on covers. Photo is indicative of typical condition.
Softbound, 52 pages, 47 photos (10 color), 26 pages full color illustrations
Dimensions: 8.5" x 11"
Item: #13804
Out of print.