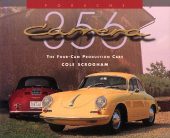 Included in Porsche 356 Carrera, The Four-Cam Production Cars is the history of the elaborate flat-four cylinder shaft-driven dual overhead cam engine designed by Dr. Ernst Fuhrmann for the 550 Spyder first run in competition in May of 1953. Later that year in the grueling Carrera Panamericana road race in Mexico the first Spyder, 550-01 took a class win.
A confusing twelve years followed in which the four-cam engine was developed and installed in every conceivable racing car Porsche built, even finding its way to Formula 1. It took the legendary 911 engine to finally end its reign in 1964.
The first four-cam powered production car was a 356 coupe completed in July of 1955. It spawned a bewildering variety of production-based brethren, steeped in mystery by their exclusivity. The name Carrera was given to these cars in honor of the Mexican race victory in 1953. Carreras had high sticker prices coupled with a reputation for complicated, expensive repairs and maintenance. Were they racing cars, street racers or were they top of the line autobahn luxury cruisers? Of course, they were all three, but not at the same time…
Cole Scrogham traces the four-cam production car lineage from the first coupe to the last Carrera 2. Included also are the unusual GT versions of 356A, 356B and 356C cars with standard pushrod engines. Factory photos and charts accompany contemporary photography to tell the definitive story the enigmatic Porsche 356 Carrera.
The author, Cole Scrogham is a well known restorer of Porsche production and racing cars. Cole has also competed in vintage racing, and now heads up G & W Motorsports based at Virginia International Raceway.
Hardbound, 112 pages, 130 photos (33 color), 28 illustrations
Dimensions: 11.5" x 8.75"
Item: #75813
Out of print.