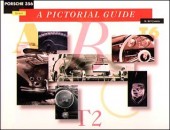 Included in 356 Defined are year-by-year model descriptions with attention to changes in details, both mechanical and cosmetic. The chassis number and color information, more accurate than available from the factory, is provided in easy to use charts. The text has been reviewed and approved by an impressive array of recognized 356 authorities worldwide.
All models, from the commonplace to the very unusual are described and presented with full color photos of over 75 original and correctly restored 356 Porsches. Not only coupes, cabriolets and Speedsters, but Carreras, America Roadsters, even pushrod GTs are revealed in a way to simplify the incredibly complicated 356 lineage and nomenclature. Along the way, a number of established myths are challenged and the unique hand-built one-of-a-kind masterpiece Porsche 356 is transformed into a naturally evolving limited-production sports car.
The author, Dr. Brett Johnson has written three other Porsche authenticity guides and has been the restoration column editor in the 356 Registry magazine since 1975. This book is a logical extension of the previous work, The 356 Porsche, A Restorer's Guide to Authenticity.
Softbound, 144 pages, over 350 color photos
Dimensions: 8.5" x 11"
Item: #75824