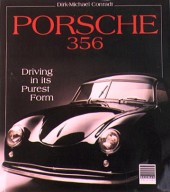 While there are a number of books that have been written about the first cars that bore the Porsche name, none can compare with this one. With access to the Porsche archives at both Zuffenhausen and Weissach, Conradt uses extensive amounts of Porsche's own documentation to tell the story of how the 356 Porsche came to be, starting in Gmünd Austria in 1943. An extraordinary collection of internal memos, meeting minutes and factory documents are presented word for word in a manner that makes you feel that you were there.
Start up problems and vehicle flaws are mercilessly exposed, as are solutions put forward by engineers and marketing staff. Oddities, such as linear speedometer dashboard studies of 1953, four seat 356s, automatic transmissions and the T 4 concept car with quad-headlights are all discussed in detail.
Period photos are not only from Porsche, but also the archives of Julius Weitmann, the man who did Porsche's advertising photography during the glory days of the 356. Most of these never-before-seen photographs reflect not only the spirit of the times, but also serve as a valuable reference on 356 Porsche originality.
Without question this is the best book about 356 Porsches ever written! At the time of publication the author, Dirk-Michael Conradt was the editor-in-chief of the German magazine Motor Klassik and a 356 enthusiast and owner. In the book he even road tests his own car.
A dedicated group of the 356 faithful read and dissected each word of translated text and inspected each photo. They weren't content to leave well enough alone; they fine-tuned it a bit. In a personal letter to Brett Johnson, publisher, Herr Conradt wrote, "Let me state again that the US-version of my book will be much better than the original - thanks to you and Pete Albrecht" (our translator, also a 356 owner).
Hardbound, 264 pages, 264 photos (49 color), 74 illustrations
Dimensions: 9.5" x 10.75"
Item: #75809
Out of print.