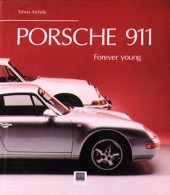 We are pleased to announce that Porsche 911, Forever Young is now available in English. This high quality 392 page, large format publication has over 100 illustrations and over 400 photos, with nearly three quarters of them in full color. The research and attention to detail by author, Tobias Aichele, is superb. Forever Young is truly the ultimate 911 book!
Originally published in Germany in September 1994, on the occasion of Dr. Ferry Porsche's 85th birthday, Forever Young presents the 911 story from conception. Our English language version was updated to include the 993 twin-turbo introduced at the Geneva Auto Show in March 1995.
Told from an insider's perspective Forever Young is a treasure trove of information. For example, in 1957 Porsche hired Count Albrecht Goertz, an associate of the renowned designer Raymond Lowey, to create the successor of the 356. Also, even though the 911 Cabriolet was not introduced until 1983, initial design work took place in 1963 and the first prototype was actually built in 1964.
Speaking of prototypes, all 13 of the original 901 prototypes built between 1962 and 1964 are detailed. Some of these were given nicknames such as Storm Petrel, Quick Blue and Barbarossa. Also described are the test drives with inevitable failures and even racing on closed mountain roads in Switzerland!
Engine development is traced from the flat six Type 745 - under-floor pushrod engine through the Type 821 single overhead cam and finally the Type 901/01 dry sump powerplant that was used in the first production cars in 1964. Gearbox evolution from the first 901 through the Tiptronic A 50 is thoroughly examined, as well.
All of the special 911s are there from the cosmetic - limited editions to competition models, such as the 911R and Club Sport. All generations of Turbo are depicted, including the stillborn Project 965. Of course, the king of all 911s, the 959 is hailed in all its glory.
Competition history is delineated from the 911's first outing at the 1965 Monte Carlo Rallye to the 959's Paris-Dakar success in 1986. In between were many more including a few wins at places with names like Daytona and Le Mans.
There are even chapters on the legendary Fuchs alloy wheel, Porsche factory photography and illustration, test driving the 993, model chronology, technical specifications and chassis numbers. In short, Porsche 911, Forever Young has something for every enthusiast of the marque.
Hardbound, 392 pages, 412 photos (286 color), 108 illustrations
Dimensions: 9.5" x 10.75"
Item: #75811
Out of print.