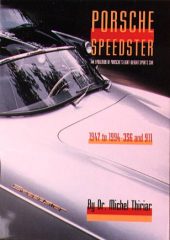 From the very beginning, the spirit of Porsche has been best exemplified by the light-weight roadster. From the mid-engined prototype to the aluminum-bodied coachbuilt America Roadster and finally, the production-based 356 Speedster, these were cars designed for competition, not comfort. As the concept evolved to the 911 in the 1980s and 90s, much of the Spartan nature of the early cars was lost, but the Speedster mystique was still present with diminutive windshield and "emergency top."
Author, Dr. Michel Thiriar, who bought his first Speedster new in 1958, takes us through the Porsche story in fascinating detail. While concentrating on the variations of the light roadster theme, he covers other related areas with unique personal observations. From Porsche's vastly successful racing efforts to automobilia, the show scene and scale models, it is all covered in over 220 pages of lavishly illustrated text.
Originally published in Europe, this English-language version was carefully edited by a dedicated group of Porsche experts. This large format work will be an invaluable reference and a must for any true Porsche person!
Hardbound, 224 pages, 560 photos (402 color), 69 illustrations
Dimensions: 10" x 13.5"
Item: #75815
Out of print.