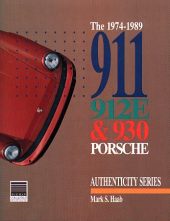 This is not a factory history or a "how-to" book, but rather a detailed look at the changes as they occurred in the areas of body, chassis, trim, and interior on these highly desirable Porsche models. It is a collection of facts and figures that allows any Porsche enthusiast, owner, prospective owner, as well as the concours participant to determine the authenticity of any 1974-1989 911, 912E and 930 Porsche. Virtually every component is described and photographed.
Three years of research and over 350 photos and illustrations make frequently modified areas such as interior, wheels and rear lids easy to understand and identify. Also included is the most complete accurate chassis number list around, interior/exterior color listings and spotter's guide. Organized in a logical, front to back, system by system style, with detailed index, The 1974 911, 912E & 930 Porsche, Authenticity Series is a pleasure to read and to use. This unique piece of Porsche literature is truly a must for any Porsche enthusiast.
Softbound, 144 pages, 315 photographs, 36 illustrations
Dimensions: 8.5" x 11"
Item: #75802