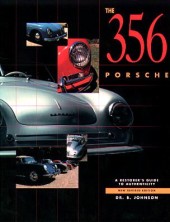 This is not a factory history or "how-to" book but, rather a detailed look at the changes as they occurred in the areas of body, chassis, trim and interior on these highly desirable Porsches. It is a collection of facts and figures accumulated with the help of the 356 Registry membership, that allows a potential buyer, concours entrant or enthusiast of the marque to determine the authenticity of any 356 Porsche. Virtually every component is clearly described and photographed. Years of additional research and over 400 new photos and illustrations make the previous editions obsolete. Also included is the most accurate chassis number list around, color listings and spotter's guide. Organized in a logical front to back, system by system style, with detailed index The 356 Porsche, A Restorer's Guide to Authenticity, Rev. III is a pleasure to read and to use.
Softbound, 160 pages, 513 photographs, 114 illustrations
Dimensions: 8.5" x 11"
Item: #75816