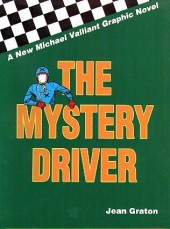 The Mystery Driver is first in a series of graphic novels by Belgian writer/illustrator Jean Graton. Made famous in the French-speaking world and now translated into English, these European format automotive adventures are perfect for the aspiring auto enthusiast or collector.
This cold war era tale involves a mysterious Russian Formula 1 car and driver. An American driver working for the CIA aids hero Michael Valliant to solve the puzzle at the Italian Grand Prix.
Dimensions: 8.5" x 11"
Item: #13801
Out of print.