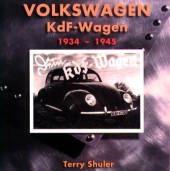 The story of the origin of the world's best known automobile, the VW Beetle. The story of design and development, the prototypes and early production models is told with large historic photos and text by Terry Shuler, Historian of the Vintage Volkswagen Club of America.
Included are photos of prototype production and rigorous testing program before the war and the many wartime models and modifications to Hitler's Strength Through Joy car. Exclusive Porsche family insider photos never previously published are also contained. The book concludes with the British army's restarting of the makeshift VW assembly line in the bombed out Wolfsburg factory in occupied Germany. A must for any VW enthusiast or automotive history buff.
Softbound, 150 pages, 127 photos, 12 illustrations
Dimensions: 8" x 8"
Item: #75818
Out of print.