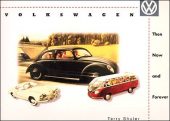 "Then" takes you from the birth of the Volkswagen as it was designed, built and refined by Ferdinand Porsche, one of the world's finest automotive engineers. Through the medium of period photos, brochures, posters, billboards and postcards plus personal accounts and interviews, you will travel from the primitive beginnings of the KdF-Wagen, continue through the dark times of World War II and miraculously emerge as the British, under Major Ivan Hirst, breathe new life into the demolished Volkswagen factory.
Under the postwar guidance of Heinz Nordhoff, Volkswagen strived to be a world player in the automotive business. By expanding the Volkswagen models offered to the public, from just the Beetle sedan to convertibles, Transporters, sporty Karmann Ghias and later Type III, Type IV and The Thing, Volkswagen played an important role in transportation for people around the world.
"Now" is the shape of the Beetle of old. That shape that continues to be the main transportation in countries such as Mexico and Brazil. When you have a winner it's best to leave it alone. Improvements are okay, but it is best not to tinker too much. Over 21 million Beetle buyers around the globe are a testament to this formula.
"Forever" is the future — the Concept I, the New Beetle, the Modern Day Beetle. Even though the new offering is not the Beetle of old, the front-mounted engine is water-cooled and front wheel drive, it has a distinct family resemblance.
Author, Terry Shuler is the Historian of the Vintage Volkswagen Club of America.
Hardbound, 208 pages, 499 photos (163 color), 231 illustrations
Dimensions: 12.5" x 9.5"
Item: #75812
Out of print.